More details
Žilina (Slovak pronunciation: [ˈʒilina]; German: Sillein, [ziˈlaɪ̯n] or [ˈzɪlaɪ̯n]; Hungarian: Zsolna; Polish: Żylina, names in other languages) is a city in north-western Slovakia, around 200 kilometres (120 mi) from the capital Bratislava, close to both the Czech and Polish borders. It is the fourth largest city of Slovakia with a population of approximately 85,000, an important industrial center, the largest city on the Váh river, and the seat of a kraj (Žilina Region) and of an okres (Žilina District). It belongs to the Upper Váh region of tourism.
Source: wikipedia
Flights
SEARCHING FOR FLIGHTS ...
Accommodation options
Nearby upcoming and completed trips
Travelers who were here
and another 26 travelers ...
Comments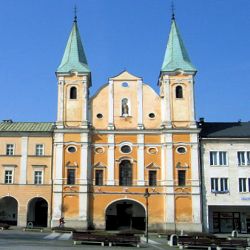 Žilina
| | |
| --- | --- |
| Region | Žilina |
| Weather | |
| Local time | |